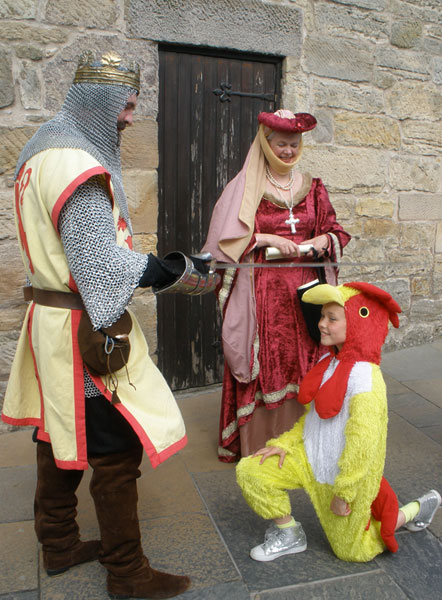 I knew it was going to be a busy day when I realised that the Artburst festival fell on the same day as the Bannockburn Commemoration!!

Never mind I made them both thanks to some empty roads and not getting lost, more on Bannockburn later!!

The weather was very kind to us and after meeting up with Jock, Joe and Lesley we went to get changed and found a wonderful buffet waiting for the performers, they must have knew I was hungry!!

We set off through the old village knighting many a young Sir and making a few beatiful young ladies in waiting for our Queen.

There were various musical acts to entertain the busy crowds who were packing the streets, acts as diverse as The Laura Healy Band, Stretch Dawson and the Mending Hearts Band - The Mending Hearts are the world's only Scottish western swing band, and they even got the King to do a wee bit of line dancing!! Oh the shame of it!!

Not to be out done we even got up on stage to do a tribalistic Scottish version of We Will Rock Ye!! An old Scottish tune handed down from father to son for centuries!!

We also had a band called Fake That who certainly looked the part, Horse also starred on an impressive bill including of course us, a group called Fangs and, to finish both the evening and the festival off we had D:Ream, well things could only get better couldn't they.