IN THE FOOTSTEPS OF DAVID R. ROSS "THE BORDERS" DUMFRIES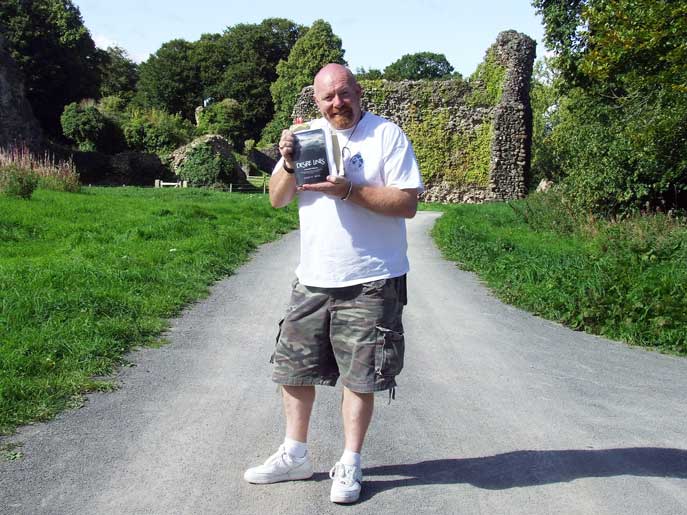 Well the sun was shining and the wanderlust was on me. But where to go? I picked up my trusty copy of Desire Lines and looked for inspiration once again from its hallowed pages. Dumfries leapt out at me and it was decided there and then that this would indeed be my destination for today.

Dumfries is around ninety minutes away from Paisley and is fairly easy to get to on major roads. Dumfries is another Scottish Border town that suffered in the past due to its close proximity to England which probably won't surprise many of you!!

I arrived nice and early and once I parked the car I decided that I needed refuelling myself and found a great wee cafe called Doonhamers, which, by the way, is what Dumfries locals call themselves, basically a Scots translation of "Down-Homers." I went for the full Scottish breakfast, unusual for me as I'm not a big eater!! Highly recommended.

Right, away we go, finding Greyfriars Kirk is easy enough; it sits opposite a lovely Robert Burns statue in Burns Square at the head of the High Street and this is where we'll start from.

If you cross the road to the Poundstretcher shop you'll see a panel on the wall telling us that this was the site of Greyfriars Monastery. Established around 1292, it was here that Robert Bruce, Lord of Annandale murdered his rival John Comyn, Lord of Badenoch in his pursuit of the Scottish crown. It was strange to stand here and think of all that went before as Dumfries shoppers went about their daily lives getting on and off buses perhaps unaware of the historical event that went on here so many years previously. These shops were built in the 1800's and apparently the Red Comyn still lies below these shops in the basement of the monastery which still exist!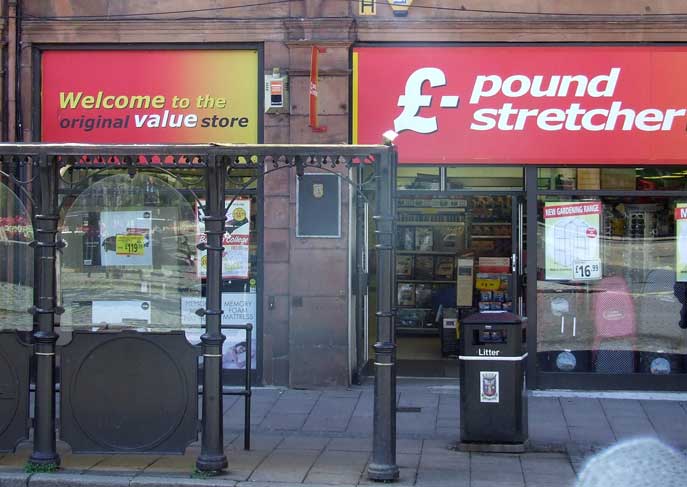 I decided to continue on down the High Street and on your left you'll find the "Hole I' the Wa' Inn, translation for you non Scots would be "Hole in the Wall Inn." Robert Burns used this watering hole and his portrait hangs above the entrance, the pub was established in 1620 and it serves a very nice pint! 

Further on you'll come to the Mid-steeple which stands on the site of the Mercat Cross, built in 1707 this building has served various functions in it's time, town hall, town guardhouse and weigh-house to name but a few. It's in great condition and you can see the care with which it has been treated with. On the other side is a staircase which affords a great place to take some nice photographs of the town centre but if you look on the wall there are one or two nice features, firstly there's a Scot's ell, which is the strip of metal with notches on it, used by the locals to measure cloth. There's also a plaque telling you the distance to various surrounding towns.

A little further down the High Street we see an ornamental fountain which is gaily painted and was put in place in 1882. If you go over to Waterstone's bookshop on your right you'll see a plaque on the wall telling us that Bonnie Prince Charlie stayed here on his return from England during the '45. In those days the building was known as the Commercial Hotel.

Further down opposite the Loreburn Centre we find the Globe Inn, another drinking establishment that Robert Burns enjoyed a few evenings in, he also stayed here on occasion and the place has many Burns memorabilia on display, they also sell a nice pint!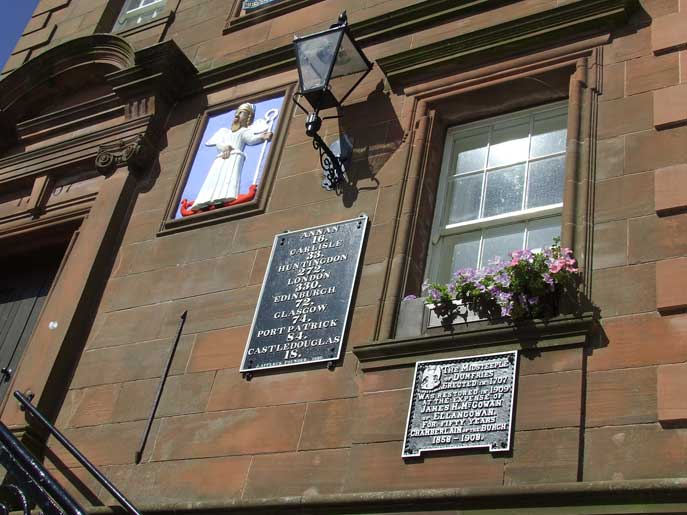 Burns features very highly in Dumfries so if you're a fan you'll spend many hours exploring. As you get to the end of this street keep a look out for signs for Burns' House, you can't miss it really as its well signposted. Almost opposite High Street just off St Michaels Street there's a little street called Burns Street, this is where you'll find Burns' House, it's free to get in and it's well worth a visit. Across from the house is a lovely little remembrance garden with heart shaped flower beds and selections of Burns poems, nice wee place for a seat and look at the windows of the house where Burns would have sat taking in the view and writing another wonderful poem!

If you come back to the end of the road you'll find St Michaels Church where Burns is buried, it's a wonder they managed to fit in Burns' mausoleum as the graveyard seems fit to burst!! The graveyard is very easy to navigate and you can find 45 of Burn's friend's graves also by their blue markers, one of his friends was called William Wallace strangely enough. Burns' original grave site is also fairly easy to find. The white painted mausoleum where Burns, his wife Jean and their children are buried is a far more fitting resting place for one of Scotland's favourite sons. Across the road from the church is a rather nice statue of Jean Armour which was erected by the Burns Howff Club in 2004.

I took a little walk down towards the River Nith, mainly to have a look at Devorgilla's Bridge but it had scaffolding around it so I never bothered with photographs on this visit. In around 1280, Lady Devorgilla of Galloway commissioned the original timber bridge in Dumfries. The stone bridge you see today was built on its foundations in the 15th century and is the oldest multispanned bridge in Scotland. Devorgilla married John Balliol of Barnard Castle, and their son John, became King of Scots in 1292, after a lengthy competition with the Bruce family.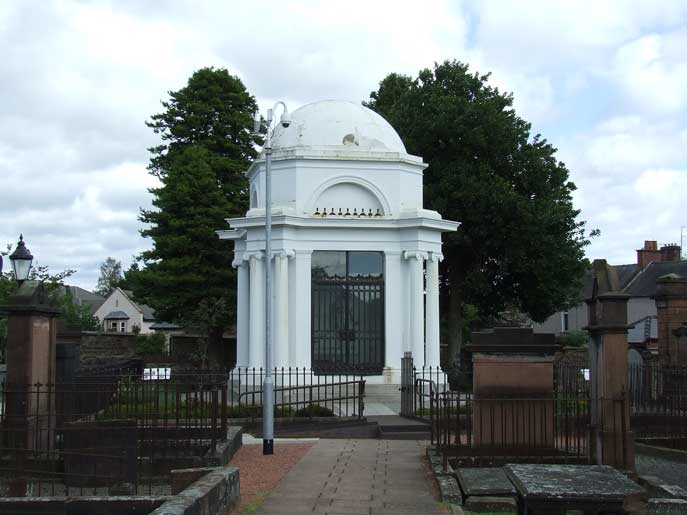 I then headed back to the car and took the road to Lockerbie, plenty of signs around so you shouldn't get lost; if you do Desire Lines is always at the ready! I headed for Lochmaben mainly to take a photo of statue of Bruce which stands in front of the town hall, the Bruces were Lords of Annandale and Lochmaben was one of its main settlements. If you head down towards the church there's a road to your right called Mounsey's Wynd where over the wall you'll find the old mote-hill that once held the castle of the Bruces, nothing much to see but nice to visit and get a feel of the place.

Once you leave Lochmaben you'll find signs for Lochmaben Castle and its well worth a visit, there's little standing here but you can stand in the heart of the castle and imagine all the things that must have went on here. Longshanks actually founded this castle after his victory at Falkirk. Robert the Bruce attacked it in 1299 and again in 1301 with an army of some 7,000 men. As you stand here today it's difficult to imagine these events as it's so very peaceful today. The Bruce captured it in 1306 but the English recovered it and it fell to the Scots once more around Bannockburn. It has lain empty since the 1700's.

We need to retrace our route back to Lochmaben where we pick up the road for Lockerbie once more. As you drive a few miles up the road, look out for a sign which says Garden of Remembrance and Dryfesdale Cemetery, this will be our last poignant stop on our journey.

At the rear and to the right of the cemetery is the Garden of Remembrance built in memory of all those who lost their lives in the terrorist bombing of flight 103. On the 21st of December 1988 a Boing 747 was blasted out of the skies killing 257 people on board and 11 residents on the ground, they aged from two months to 82 years old. There are so many individual tributes around the garden that you can't fail to be moved as you walk around reading them, some stones have the victims photographs engraved into them and you can only imagine the grief these families are all going through even all these years later. I remember the attack very well as I'd just moved into my new home in time for Christmas and couldn't believe my eyes as I watched the images unfolding in front of me on the evening news. A sad ending to our journey but one we should all endeavour to do, we should never forget the victims of Flight 103.

A strange little trip for me as it was my first journey with Desire Lines knowing that I wouldn't be able to share the stories of my trip with my friend David Ross but it was comforting to know that even though he's gone the Big Guy continues to inspire and educate me, God bless him.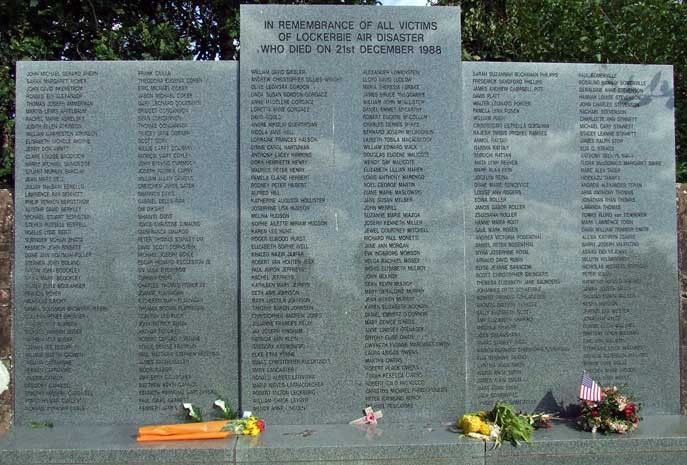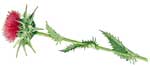 For higher resolution copies and lot's more of these photo's
CLICK HERE