WALLACE DAY ELDERSLIE 2009
After a week of torrential rain it was a real surprise that the day was bathed in glorious sunshine, the Big Yin upstairs is obviously very fond of us Scots and our favourite son, William Wallace!!

A very healthy crowd gathered in Ludovic Square Johnstone in preparation for the Annual march in honour of William Wallace, along with the many patriots from Scotland we had people from England, Italy, America, Canada, Argentina, Russia and even some from as far as Easterhouse!!

A truly international representation of what Wallace means to not just us Scots but to people from all over the world!!

A crowd of almost three hundred people gathered in the square waiting to begin the march which was once again led by the fantastic Kilbarchan Pipe Band.

There were many Societies involved in the march and I hope we haven't left anyone out, The Society of William Wallace, Crann Tara, Siol nan Gaidheal, Knight Templar's, 1820 society, Paisley tartan Army and Strathleven Artizans all became a united clan for this most special of days.

On reaching the monument there was a healthy crowd already assembled waiting for us all to arrive.

David Ross from The Society of William Wallace got things started of by thanking all the patriots who had come along to honour one of Scotland greatest hero's, David then said a few words about Wallace, something he always does extremely well and this day was no exception!!

David then introduced us to our first speaker, Malcolm McNeil who touched a nerve with everyone in the crowd by telling us straight from the heart just what Wallace meant to him.
Next we had Ken Shira from the Knight Templar's, this was a highlight for me, Ken gave a great speech which was really well received by the assembled crowd.

We then had Ted Christopher say a few words about the lack of Scottish history that was taught at his school and it seemed to strike a chord with so many people in the crowd, Ted then gave us a great rendition of Scot's Wha Hae.

Finally we then had the laying of the wreath, and in a nice touch one of our foreign visitors, Donna Johnston from Florida accepted the invitation to lay the wreath.

Just before the ceremony was brought to a close David Ross brought forward a chap called Hugh McDonald and told us that eighty year old Hugh had not missed a Wallace day event for sixty three years!! Think about that, sixty three years, absolutely incredible, and rightly brought about the biggest round of applause from the crowd.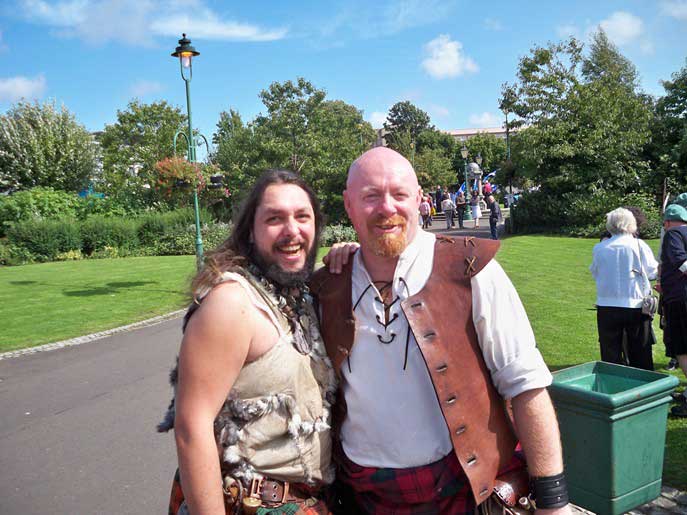 Always a pleasure to meet Thomas at these events!!
After the march it was time to socialise and meet some old friends and greet some new ones. The Village Hall had stalls with every conceivable Scottish memento that you could wish for and well done to everyone who had a stall.

The bar was open and folk gathered all around the hall and on the stairs outside to enjoy the sunshine which just made for a wonderful relaxed almost family party atmosphere.

Time soon caught up with us and it was time to take our seats for the evenings entertainment. Ted (better than Elvis Presley) started the proceedings and boy was he up for it, Ted never lets you down on occasions like this and he played a storming first set almost as if to say to Albannach "follow that!!" and follow it they did, Albannach were absolutely stunning, power, musicianship and the ability to work a crowd into a frenzy was all in a nights work to these guys, superb.

We then had the raffle with Ted and Ziggy and some of the prizes on display were wonderful, I even managed to win a bottle of whisky which only made the night even better if that was possible. We then had Ted and Albannach entertain us for the rest of the night and you could hardly get onto the dance floor to strut your stuff!!

A huge big well done to the Society of William Wallace for organising the best Wallace day event that I've been to, thanks to everyone we met for making it such a great day and night and hopefully we can do it all again next year.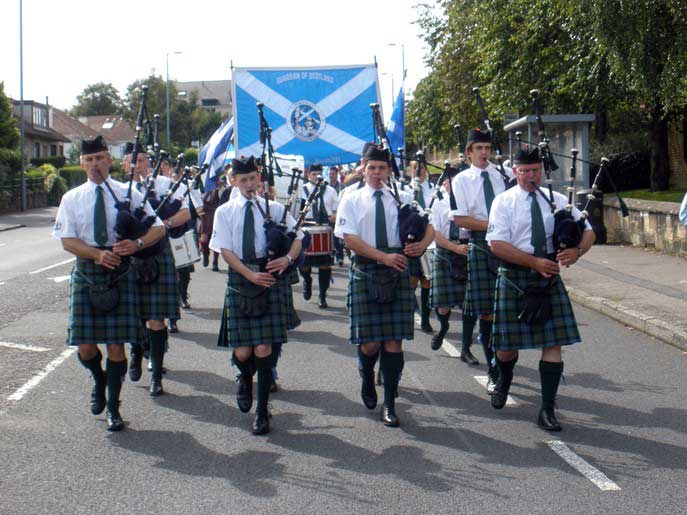 The wonderful Kilbarchan Pipe Band!!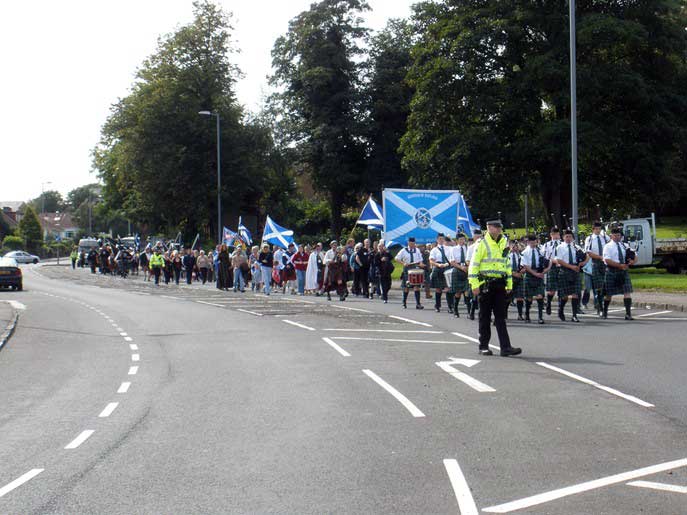 A great turnout for the march.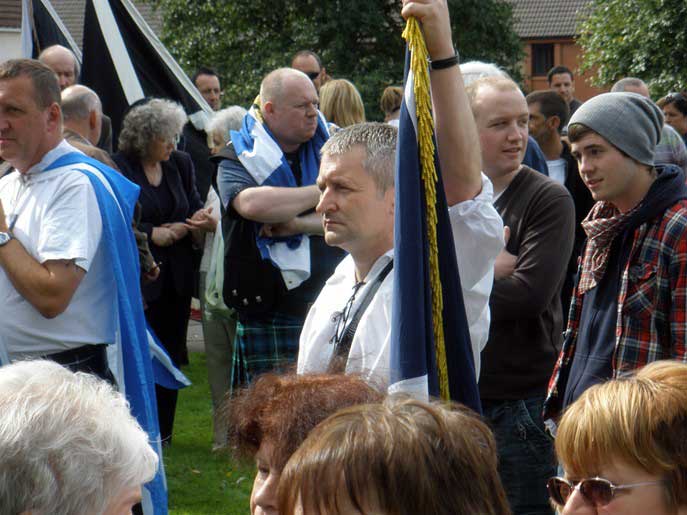 Oor Davy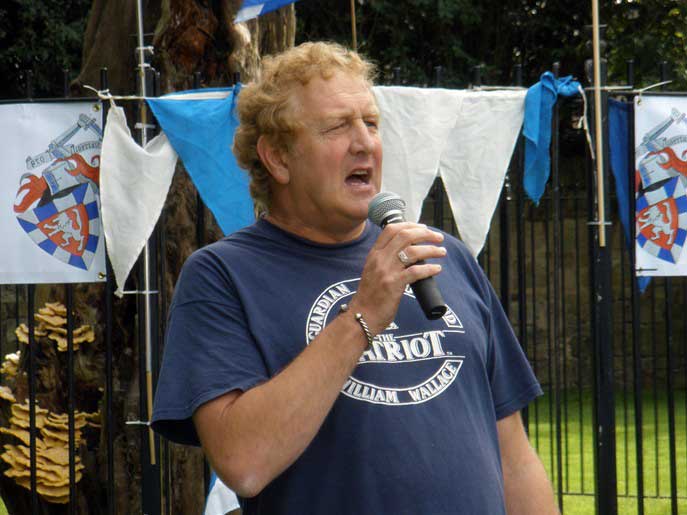 David R Ross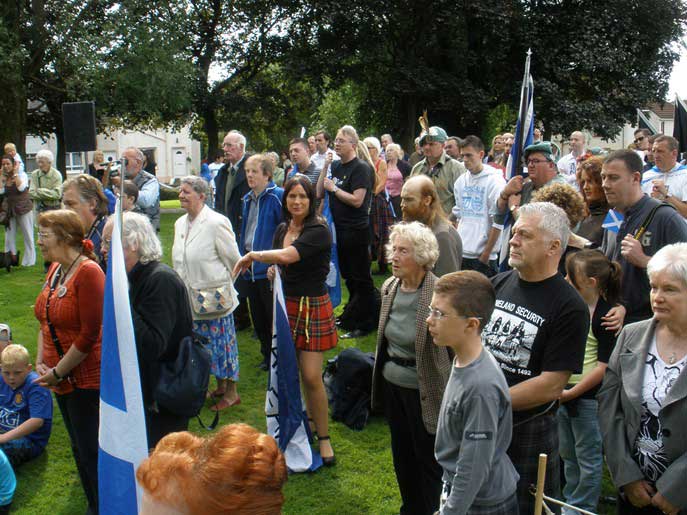 An attentive crowd!!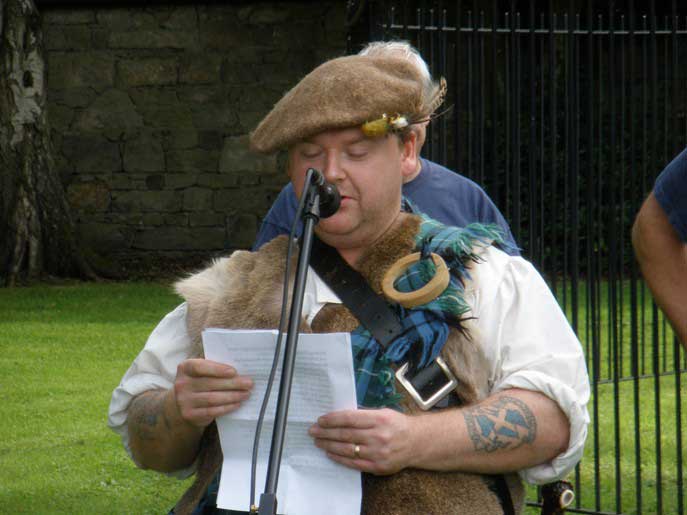 Malcolm McNeil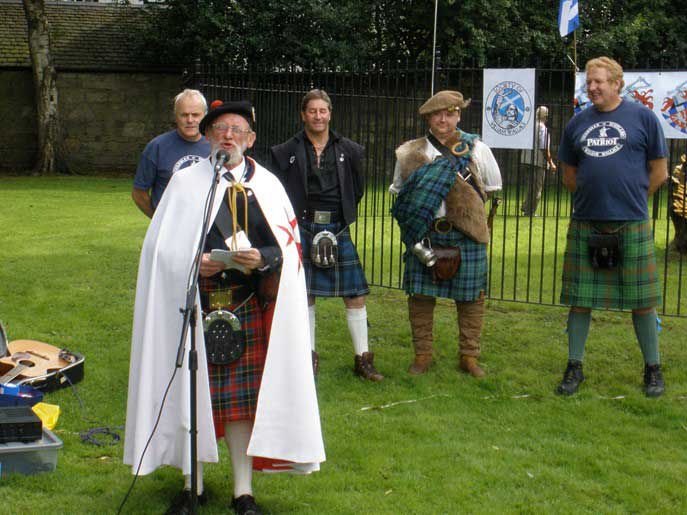 Ken Shira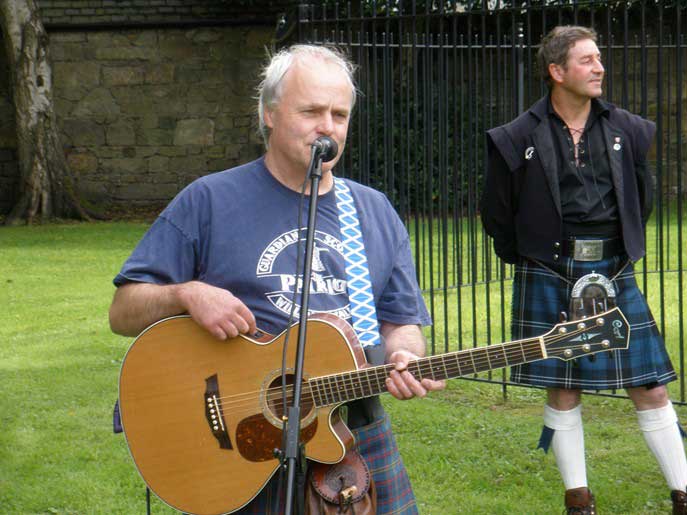 Ted (better than Elvis)Christopher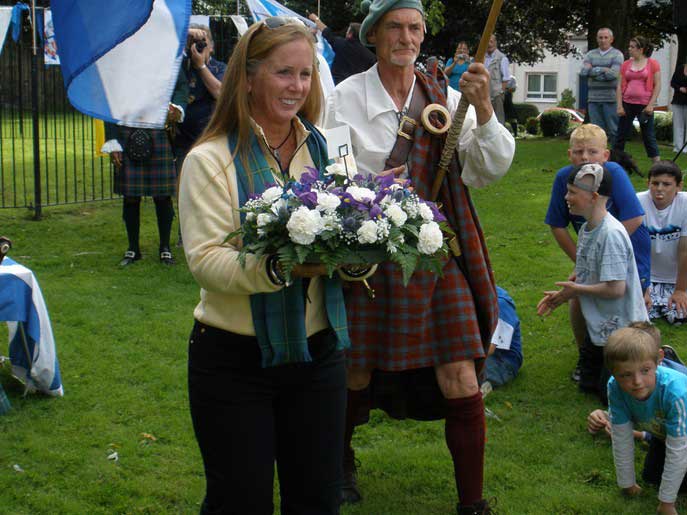 Donna Johnston from Florida laying the wreath.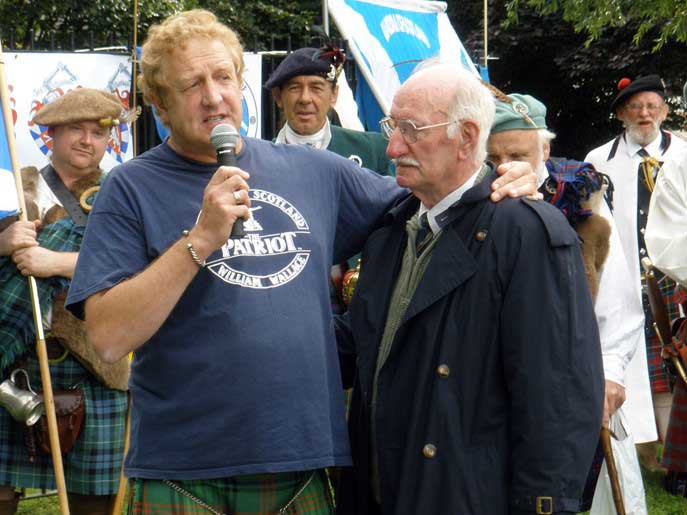 David Ross introduces Hugh McDonald.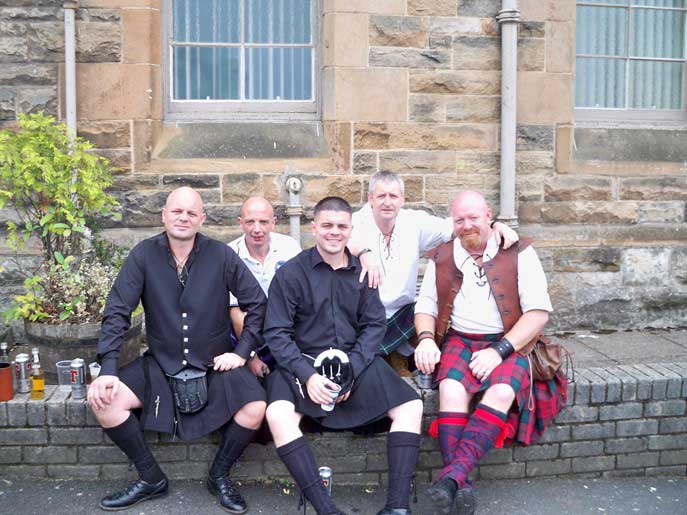 A fine bunch of lads!!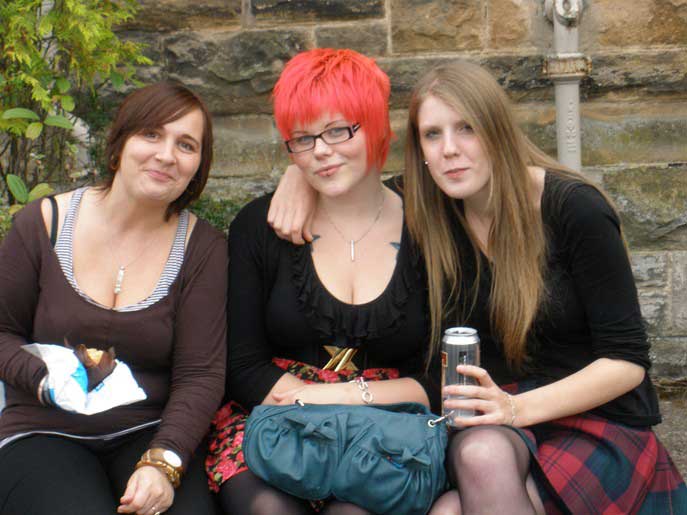 A wee bit of glamour outside the hall!!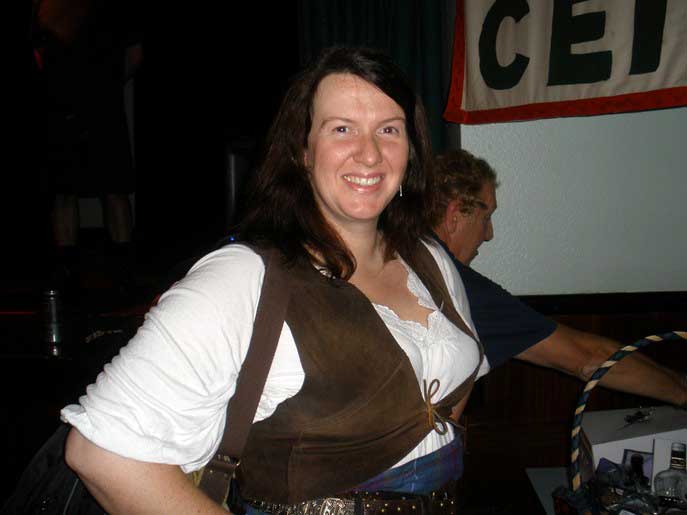 Jacquie looking great as usual!!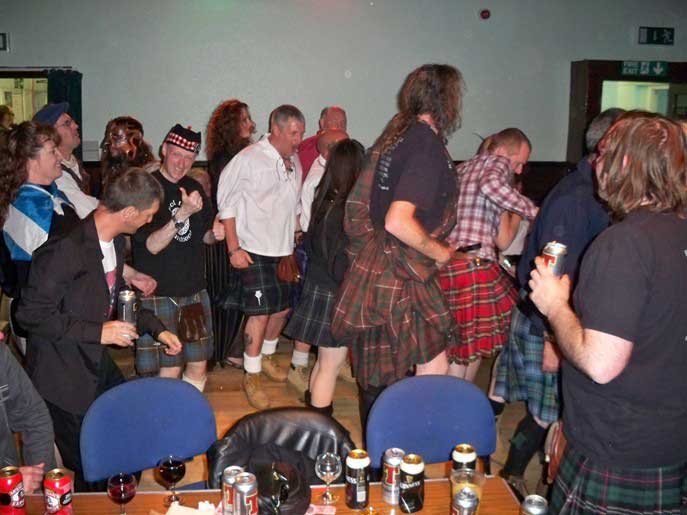 The crowd are bouncing and ready for anything now!!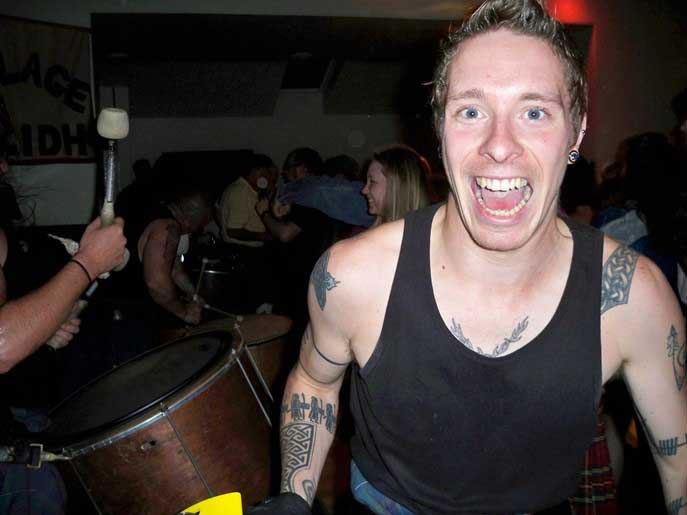 Aya's getting excited!!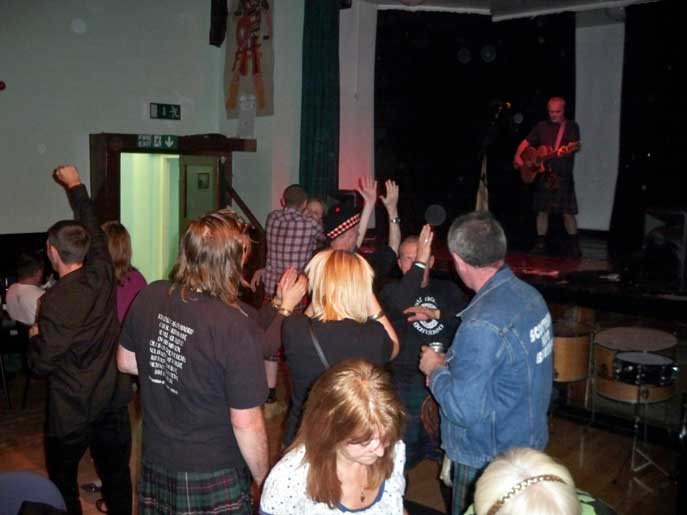 Ted entertains the crowd through the night!!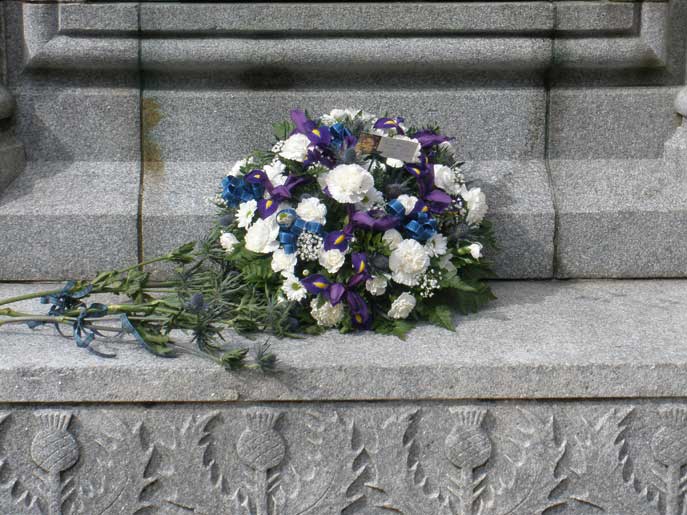 The wreath.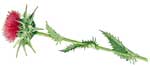 For higher resolution copies and lot's more of these photo's
CLICK HERE