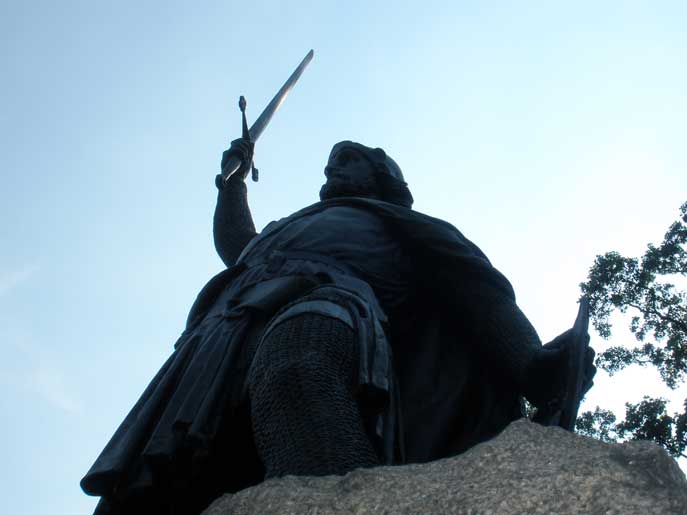 One of my friends asked me for a detailed account of my trip to Grandfather Mountain and I sent him some twenty lines and he wrote back, not good enough, so I sat down and wrote this, maybe it will be of interest to you guys out there, I bet my friend is sorry he asked lol!!

Where do I begin, let's begin at the start that might work!! In March 2010 a group of Americans mostly unknown to each other decided to come and visit Scotland with David R Ross as their tour guide. Unfortunately David passed away and the Americans agonised over whether the tour should indeed go ahead. After much soul searching they decided it should go ahead in David's memory.

The guys had a fare idea what they wanted to do including a wedding as two of their number wanted to tie the knot here in Scotland. Historic locations were high on the agenda as they wanted to see all the things that David talked about in his books.

They decided to get in touch with us here at the Wallace Society for some advice and many members stepped up with tips on places to go and visit, it all culminated with a fantastic tribute night to David in Edinburgh.

Anyone who'd met these people couldn't have helped but be swept up by their enthusiasm and friendship towards Scotland and David's friends, it really was a special time and the Society remained long in their hearts and minds when they went home.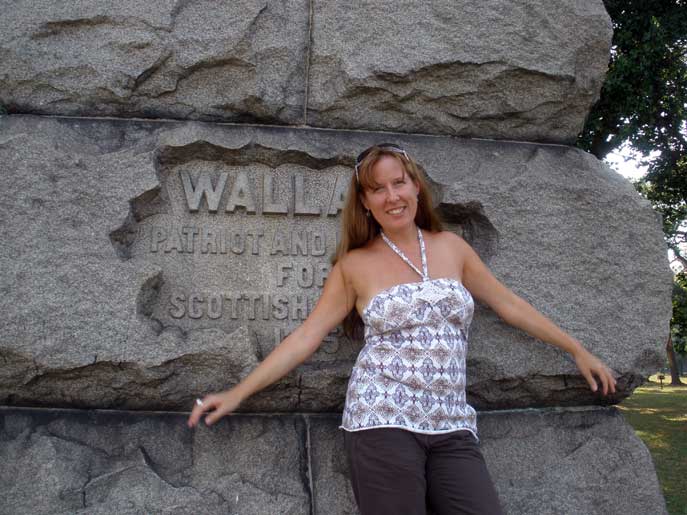 My Washington tour guide Kim at the Statue of Wallace in Baltimore
Knowing how much and how hard David worked promoting the Wallace Society the Americans wondered how they could repay the kind and wonderful reception they all got on their trip. The seed was sown and they very kindly asked permission to start an American chapter of the Wallace Society and help spread the word of Wallace and Scotland further. We were of course very humbled that their visit had struck such a chord with them all and granting permission was an absolute no brainer.

They planned to launch the Society of William Wallace USA, or Wallace USA as they like to call it (Its a lot easier to say!!) at Grandfather Mountain in North Carolina as the mountain was always a special place for David, he loved it there, very magical and mystical he used to call it, and having been there myself I have to agree with him, it's a wonderful place, truly wonderful.

I arrived in Washington and got picked up by a lovely lassie called Kim who picked me up at the airport and asked me if I was tired as she had something she'd like to show me, she took me out to Baltimore which I didn't realise was not too far from Washington, anyway there's a massive statue in Druid Hill Park of William Wallace, an exact replica of the one on the Stirling monument, it was wonderful to finally see it, all the more poignant because almost exactly a year ago David R Ross visited the same statue and sent me photos of it, Kim produced a quaich and a bottle of Balvenny and we toasted both David and Wallace in the Baltimore sunshine, a lovely touch from my guide I thought.

We then went and ate the finest seafood Baltimore harbour had to offer, wonderful!! Then it was off home to my lodgings in Washington for a few days.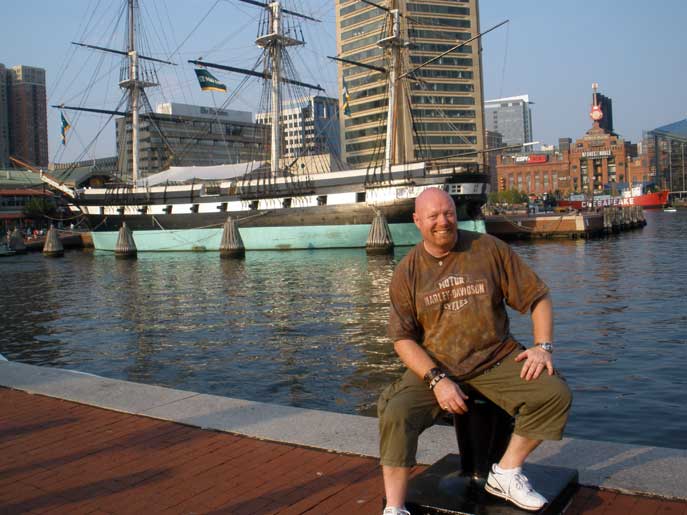 Baltimore Harbour
The following day we went to Gettysburg and drove round some of the battle sites there, the place is massive and you'd need a few days to fully explore the place, as it was we had a few hours and made the most of them, reminded me a lot of Culloden, I've always been interested in the Civil War and this wee excursion was a total bonus for me!!

The following day we went into Washington DC, you could smell the power, each building pristine and more gorgeous than the next, never got to see the White House as time was against us, I really wanted to see the Vietnam Wall Memorial as the Vietnam War has a special interest for me, don't know why and I wont even try to explain it.

A few years ago I was in New Hampshire when I noticed a poster saying come and see the moving wall, basically it's a smaller version of the wall in Washington but it travels the country so that everyone can pay their respects, a wonderful idea if you ask me. Anyway, I went to see it, and the folk in charge asked me who I had come to see, when I explained everyone they asked me where I was from and they were very touched that a Scotsman wanted to pay his respects to the Vietnam fallen. They told me that they didn't like anyone to visit without at least picking someone to say hello to, we looked for the name Boyle and there wasn't any so they picked a name at random, Ricky Lee Meeks, I went and said hello to Rickie and had a wee moment to myself.

When I came home I tried to find out more about Ricky and I did, I found a photo of him and even spoke to some people who knew him through some forums online. When Kim took me to Washington to see the real wall I went in search of Ricky and found him quite quickly, I sat there talking to him for a wee while and had another wee moment, Kim left me alone with my thoughts and we later sat together on the path just remembering that every name on that wall was some Mother's son, very moving for me personally and an experience I will never ever forget, I will never be able to thank Kim enough.

All those great experiences and I still had four days on the mountain to look forward to!!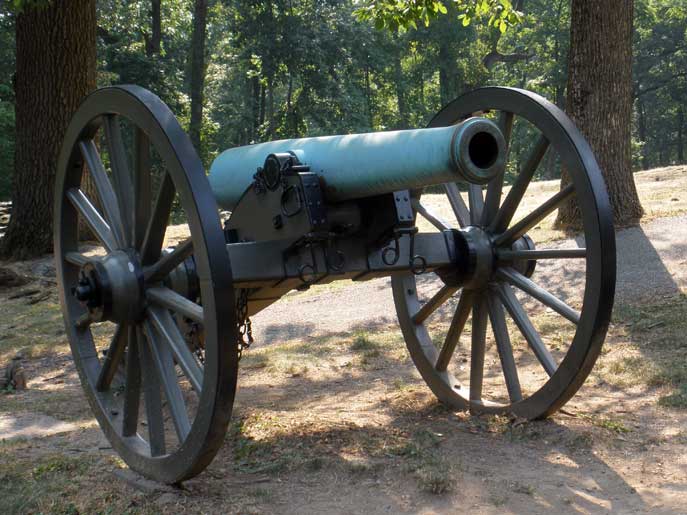 One of the canons at Gettysburg
Wallace USA and Wallace Scotland linked up on the mountain with a merchandise tent where we could meet and greet the public to tell them of William Wallace and Wallace USA. People were very interested in what we were doing and our tent was always busy with people wanting to ask or tell us something about Wallace or David.

David figured largely in these conversations and some folk had only just discovered on the day of David's passing, it was hard to talk about David but these people really loved the man, he meant so much to so many people over there and it's only when you go over you realise just how much good work he put in, we all knew he was doing it but I don't think we really understood to how much of an extent he was doing it!! 

Scotland owes him a huge debt and if there's any justice in the world the big guy will be getting treated very well in Tir Nan Og.

Wallace USA launched on Saturday the 10th of July in the Chieftains tent, an honour befitting of the occasion. Donovan Murray welcomed everyone to the first meeting of Wallace USA and handed over to President of the newly formed society Eric Johnson who gave the background to the idea that spawned Wallace USA.

Vice President Lyn T. McKinney, not a speaker by his own admission, was busting to get started with the society and his enthusiasm is very infectious, what a guy to have on the team!

Next it was my turn, I spoke about the society back home and tried to give as much detail as I could about the origins of the society, everything was very informal and it was one of the most memorable moments of the trip, everyone was so enthusiastic about the whole venture that I can't quite put into words how immensely proud of them all I was and I knew that David was up there smiling down at us , he would have most definitely have approved of the coming together of both his families.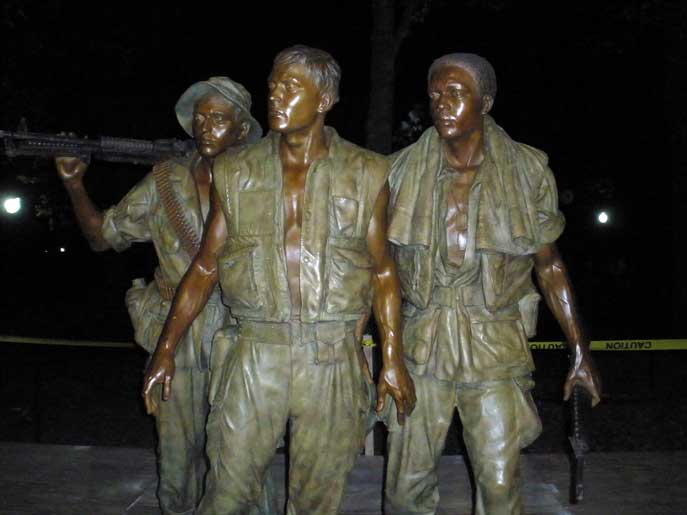 Vietnam monument in Washinton DC
I presented on behalf of Wallace Scotland, a quaich engraved with the words, "I have brought you to the ring, now dance the best you can", the Wallace shield was also engraved into the quaich, even the jeweller I had do the work was stunned at how beautiful it looked. Christine McLeod also gave me a piece of the Bannockburn 2014 plaid that she was making for David to give to Wallace USA, they knew the significance of this as they knew David had helped weave some threads into the very fabric they all took in turns to hold. It was a very special emotive moment that will live with me for a very long time. With the formalities completed it was time to fill the quaich with a large dram and partake in proposing a toast to Wallace, David and Wallace USA!

There were so many wonderful moments on this trip for myself personally that I wont bore you all with the details but I would just like to take a moment to thank everyone for the kindness and friendship they showed me personally, Celtic Force for inviting me over, I'll never be able to repay them for all the memories that this trip gave to me, to Kim Deffinbaugh who opened up her home and her family to a virtual stranger like myself and sat in a car for eighteen hours with me, not easy, to all the gang on the mountain who were nothing but generous and friendly to a Scotsman so far from home.

Only bad thing was I missed my connecting flight and ended up at Edinburgh instead of Glasgow with no luggage and my wife Susan waiting to surprise me in Glasgow!!

It didn't even come close to ruining the memories of my trip which was a total life changing experience for me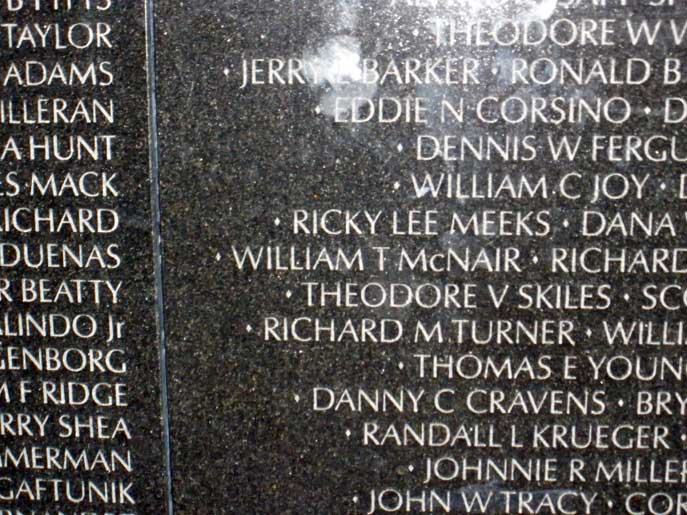 Ricky Lee Meeks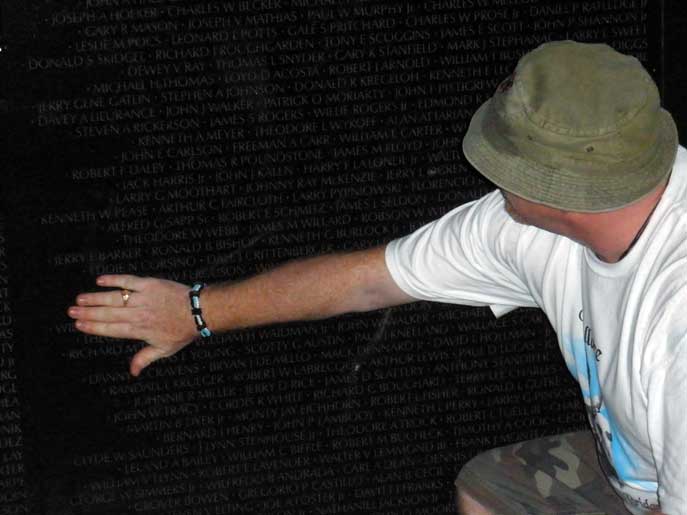 Me and Ricky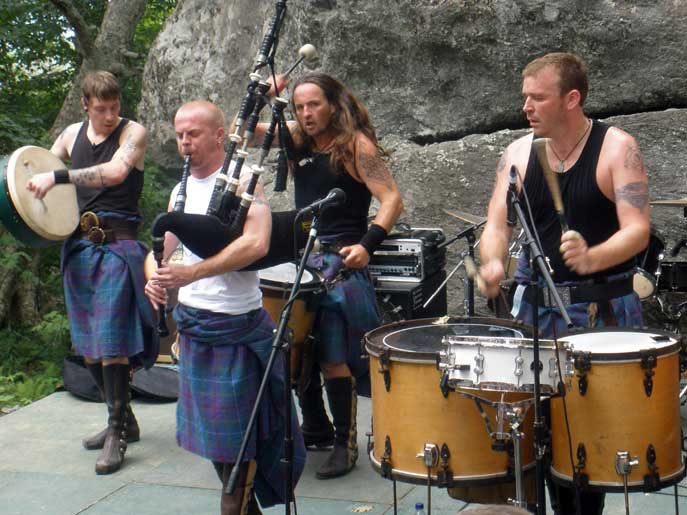 Albannach at Grandfather Mountain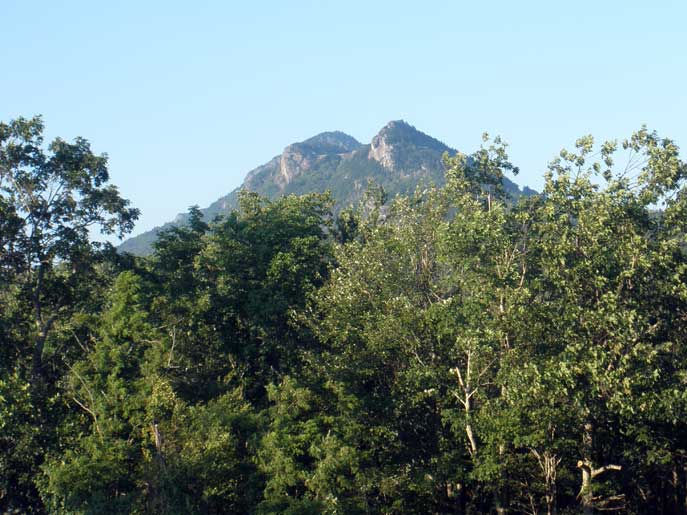 Grandfather Mountain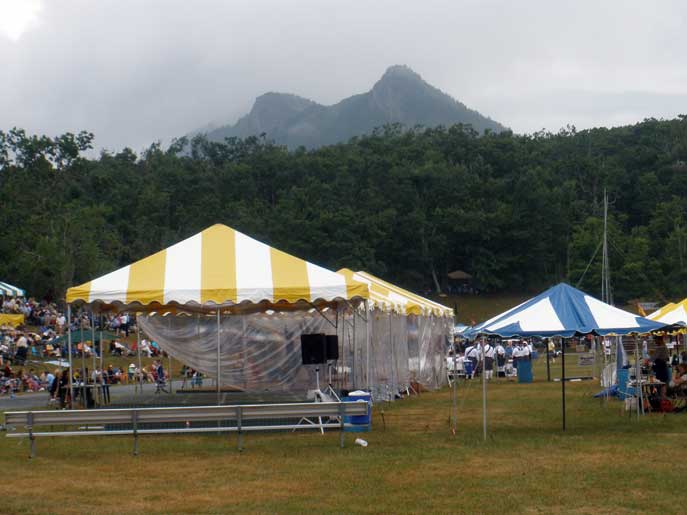 The main stages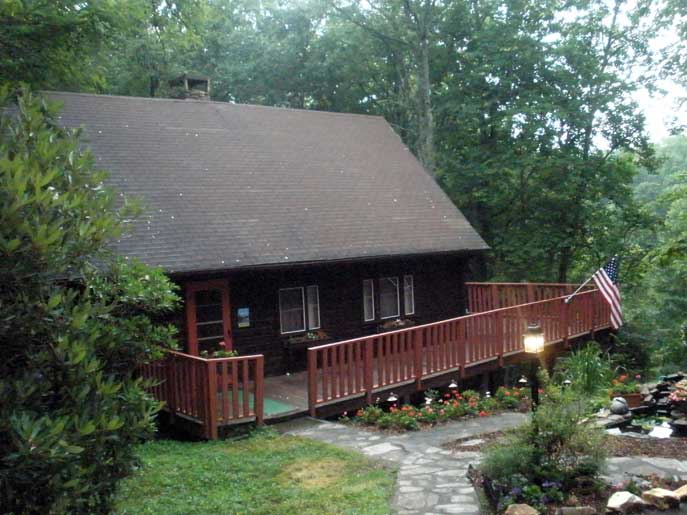 My lodgings on the mountain, sometimes you have to just make do!!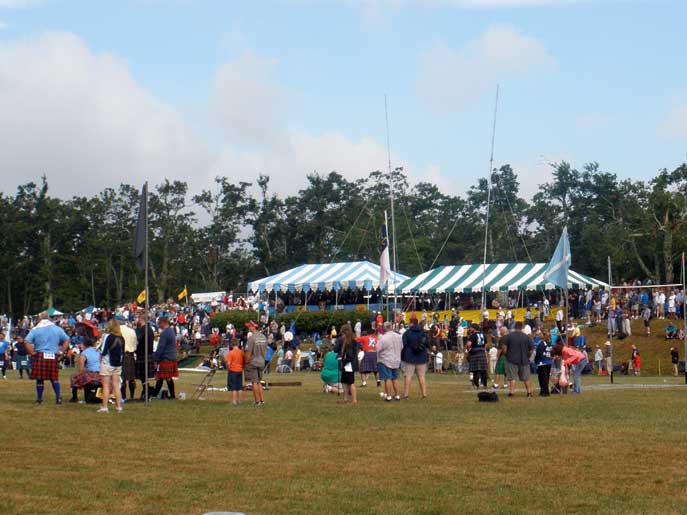 It was a busy four day event!!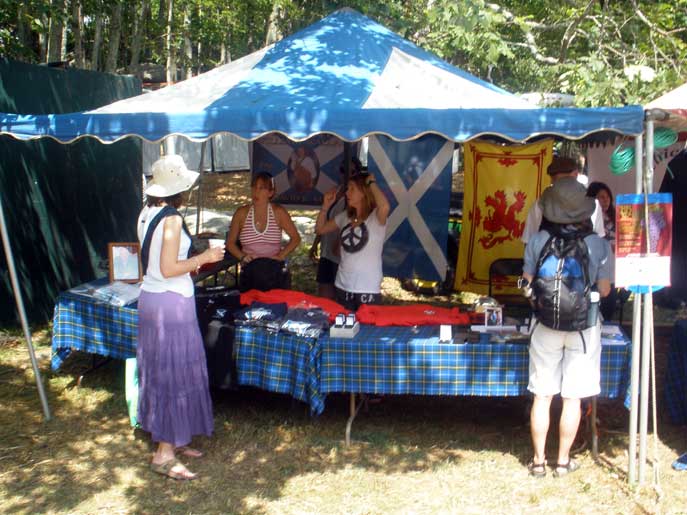 The Wallace Society tent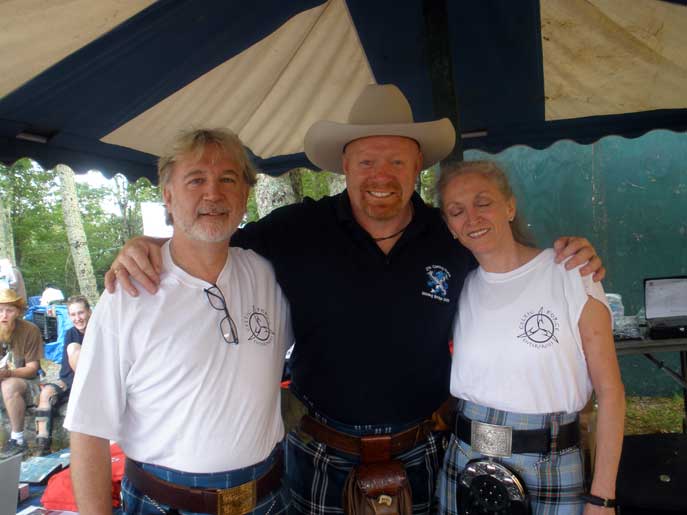 It's all thanks to Randy and Barry that I'm wearing such a wonderful stetson!!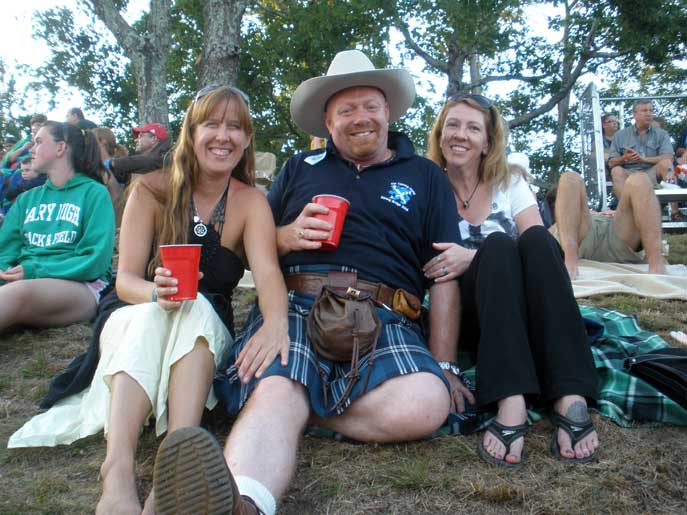 Saturday night, work is over, time to play!!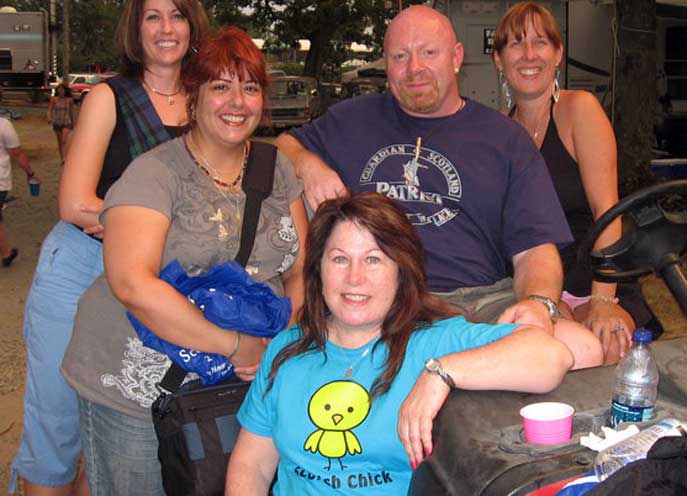 Some of my wonderful crew!!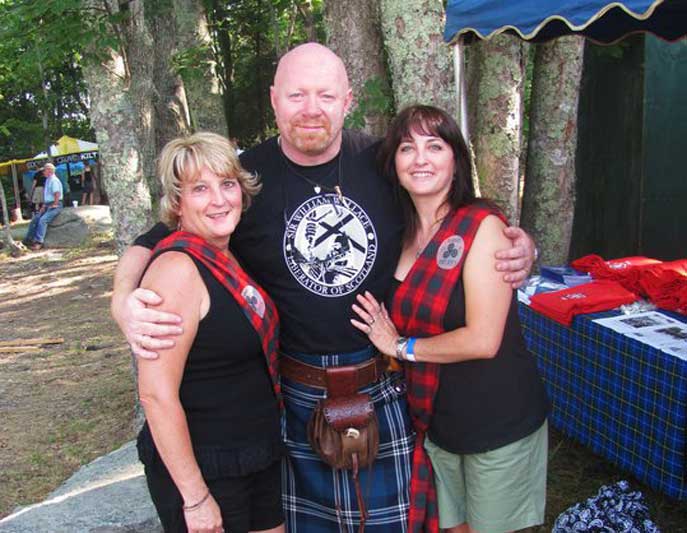 Sometimes you have to give the public what they want, lol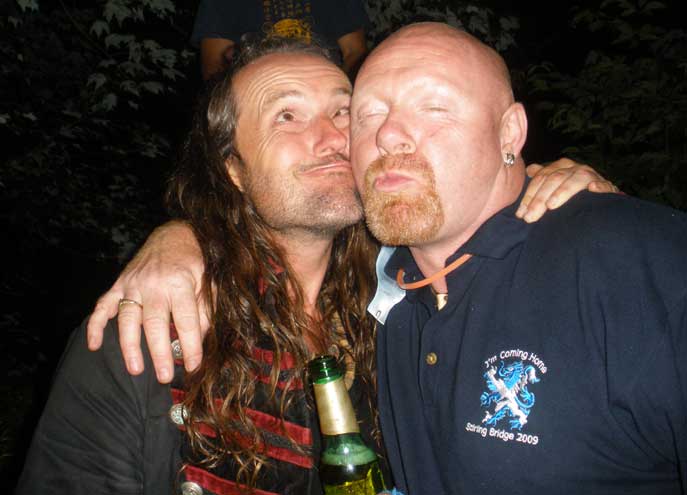 Almost time to go home methinks!!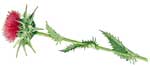 For higher resolution copies and lot's more of these photo's
CLICK HERE